ghostfriend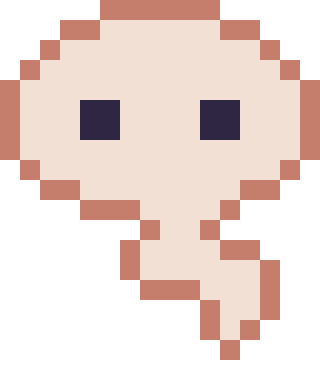 take care of your ghost friends until they're ready to leave this realm.



~
in ghostfriend, you are in charge of taking care of wayward ghosts who aren't quite ready to leave the mortal realm. watch over them until they grow up and see them off into the afterlife!
for $3 or more, you can support me in my game-making adventures & also receive the .gb & .pocket files for playing on gameboy & pocket! gameboy color is recommended for the colour support as well as extra clock power - the game may lag on the original gameboy.

NOTE: for the browser version, time won't pass if you have the game in an inactive tab, so i recommend having the game open in its own browser window so you can do other stuff while keeping an eye on it!
also sometimes the game may freeze - it will fix itself if you wait until the ghost becomes an adult or you restart the game and select RESET.

~
CONTROLS:
move - arrow keys or wasd
a - z or j
b - x or k
menu - enter

the game autosaves but you can also save from the menu.
~
CREDITS:
story/code/art by npckc
special thanks to sdhizumi & my patreon supporters

~
want to see more games like this? sign up for my newsletter!
join my patreon for secret updates, a monthly digital postcard & early access to my games!
| | |
| --- | --- |
| Status | Released |
| Platforms | HTML5 |
| Rating | |
| Author | npckc |
| Genre | Simulation |
| Made with | GB Studio, Aseprite |
| Tags | analogue-pocket, Cozy, Cute, Ghosts, Halloween, Monsters, Pixel Art, Retro, Spooky, Virtual Pet |
| Average session | About a half-hour |
| Languages | English, Japanese |
| Inputs | Keyboard, Touchscreen |
| Accessibility | Color-blind friendly |
| Links | Homepage, Twitter, Patreon |
Download
Click download now to get access to the following files:
if you pay $3 USD or more
ghostfriend.pocket
256 kB
if you pay $3 USD or more
Comments
Log in with itch.io to leave a comment.
Does anyone know how to start the game? I can't quite figure it out :o
Super cute game, perfect for the spooky season (which is, of course, immortal!!!!! All months of the year are spooky, if you will them to be!!!)
Thank you for the tomoghosties!!!!!!!
Quick question how do you start?
I didnt get the controls at first but I love it
Hi! The browser version doesn't work for me (perhaps because I'm using Edge?) but I like your stuff so I bought the .gb version. I'm playing it with John's GB Emulator on an Android phone and when I loaded the game it seemed to work just fine. It was cute, although I didn't really understand what to do. After a little while I saved (using the main Start button menu command) and then closed the emulator. Next time I loaded, the cartridge launched okay but when I tap Start, it asks for the language again (I say English again) and it just hangs on "FINDING A GRAVE..." forever. :/
what's the issue you have on edge? i've tested on edge & it seems to play fine, but the game will not play unless you allow third-party cookies for the page.
unfortunately i don't know what the issue could be for the emulator could be as i don't use that specific emulator, but if you could send your .sav file through a link @ https://npckc.site/#contact i can take a look & see if it's an issue with the .sav or game or if it's an emulator compatibility issue.

I feel like a huge fool; I'm sorry for wasting your time! When it says "Finding a grave..." I was just waiting patiently, and it never changed or updated. I didn't realize that you have to press A to make it continue.
The cutest lil halloween game, fantastic job npckc!

Also I was scaring my lil buddy ghost and the game has perma frozen now lol! Closing the game and re-opening has the same result eek

oh no that sounds like a bug! if you don't mind trying this, try leaving the window open for a while - if i'm not mistaken i think it should "fix" itself when it's time for the ghost friend to leave, but that might take a while.